Bleaching hair is nothing but the hair dyeing or hair coloring which is a practice of changing your hair color. There are so many varieties and brands of cosmetic bleaching products currently available in the market from medium brown to blonde hair color options. In order to bleach your hair at home, first of all, you should need to collect all these items and do these things as instructed here.
Things to be considered for hair bleaching:
Once you have decided to do bleaching hair, you should need to collect all these necessary items such as,
The high quality bleach powder
Developer
Brush for applying bleach on your hair, mixing bowl and also the clips for sectioning.
Choosing a right developer for bleaching – Your choice of developer is directly related to how much amount of lift you are looking for.
For gentle color cleansing, use 10 Vol.
When you want to do color removals, use 20 Vol.
For significant lifting, use 30 Vol.
If you are working on the stronger and thicker Asian hair, use 40 Vol.
Correct mix ratio of bleach to developer
While mixing the bleach power with the developer, you should take only 1 part bleach to 2 parts developer and form a smooth consistency to apply on your hair.
Next important thing which you should have to learn is that how to apply a mixer. With the help of the sectioning clips, it is better to section your hair into four large sections. They will be very helpful to easily and quickly apply the hair bleach.
Some other significant things need to consider:
How long should you leave a bleach mixture sit on your hair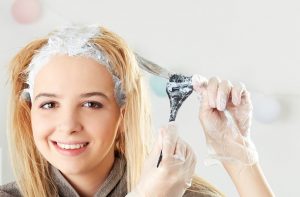 If you are searching for how long does it take to bleach hair, it is probably about 15 minutes to 30 minutes according to the starting hair color level, thickness and also texture.
Which is a suitable lightener
It is always better choosing the top branded lightener for your bleaching purposes and it will surely live up to 8 levels effectively and also safely. The best lightener will produce a creamy and easy to apply mix with the very uniform consistency.
Conclusion
Once you have understood all these factors while applying a bleach at your home, you can definitely avoid the unnecessary side effects and you can also obtain the amazing bleaching results on your hair.